Bombardier Transport V-Shop
33kV, 25kV & 6.6kV HV substation/ switchgear & distribution
HV/LV transformed power supplies
Operational interlock system
25kV overhead lines (OLE)
High level gas radiant heating
BMS control system
Electrical services distribution systems
Internal and external lighting systems
Lighting controls system
Ventilation and cooling systems
Compressed air
Description of Project:

A new 10,000m² facility for Bombardier Transportation in Derby to enable the final test and sale of trains for the Crossrail project.
The facility comprises 4 roads separately controllable and interlocked, complete with full length under-carriage inspection pits with lighting and power. In addition, an adjoining 2 storey amenities building comprising open plan & cellular office facilities as well as mess and locker/ toilet/ shower areas.
Design Services Provided:
Site-wide M&E existing services surveys
Site HV diversion and enabling works
Initial client engagement conceptual design through to as built status.
Level 3 BIM (Building Information Modelling)
25kV OLE switchgear
M&E building services
LV distribution to the facility and adjoining amenities block
Lighting design
Fire alarm & security
Operational interlock system design
Gallery – Click to View Images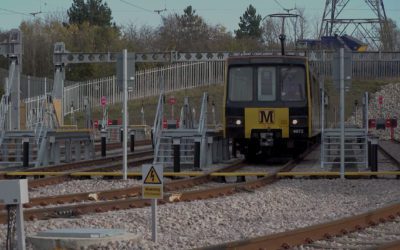 With the existing Nexus Metro depot at Gosforth, North Tyneside undergoing redevelopment works, Howdon needed to be brought online as an additional depot facility quickly and safely.
read more