Sanding Systems & Sand Silos
Sanding systems are used in rail vehicles to improve the friction between the wheel and track and each car is equipped with a sand box. Emeg has the capability to design, build and maintain depot specific automatic sanding systems that are used by rail depots to fill the sanding boxes on their rolling stock.
Sand is usually stored on site in an 8m high sanding silo with an adjacent plantroom that is equipped with a specific compressed air system that blows the sand through dedicated sanding pipelines to the Sand Dispensing Vessels (SDVs) located on the servicing aprons. The SDVs in turn distribute the sand to the holsters which the operator will use to fill the sand boxes.
Automatic Sanding Systems Case Studies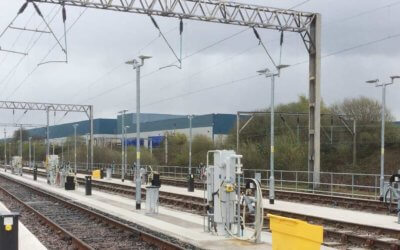 Allerton is one of the four Network Rail owned depots to be upgraded and have OLE reinstated in order to facilitate the maintenance of the additional electric rolling stock.