Rail Depot Fuel Services
With e-fuel™, Emeg has the in-house capability to design, build and maintain complete fuel storage and dispensing systems. Each design takes into consideration not only the client requirements and Network Rail standards but also the environmental hazards the system presents, as each system must comply with the Pollution Prevention and Control Act 1999.
Emeg's fuel dispensers are designed to provide the option to the client to either refuel a train by using a handgun, a flyte coupling or both. The fixed fuel dispensing units are either located to service specific points on the rolling stock or located to provide universal coverage for the servicing apron. The combination of universal coverage and a choice of fill methods gives the client the ability to fuel all rolling stock.
Smart Flow Meter
Dependant upon the client but as a norm, Emeg provides a flow meter calibrated to H&M Customs standards within each of Emeg's bespoke stainless steel fuel dispensers. Emeg's specially designed control system enables the depot to automatically store the fuelling data train by train as the refuelling process is carried out.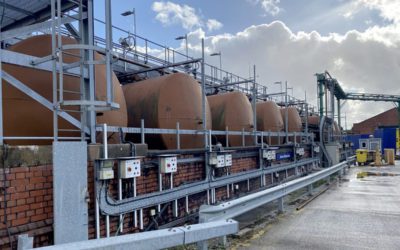 Emeg® Group is pleased to announce the award, as Principal Contractor, of three Network Rail fuelling overhaul projects valued in excess of £2m. The project consists of the overhaul of fuelling systems at Blackpool, Barrow-in-Furness and Newton Heath depots, including...
read more