A Dedicated Team with Great Knowledge & People who Solve Problems
Emeg's overriding objective and mission statement is to offer 'the highest quality range of one-stop maintenance services' where work undertaken is not too small or too large, with a particular focus on the individual needs and expectations of train operators within their rail depot facilities.
Emeg has a highly experienced in-house staff based in Chesterfield & Manchester that offer positive turnkey resolutions or alternative design options to increase equipment effectiveness to drive the key operational efficiencies being sought in a very demanding industry, whether electrical, mechanical or civils-based.
Emeg offers pre-planned standard or bespoke planned and reactive maintenance regimes covering all depot systems, such as carriage wash machines, controlled emission toilet systems, water, oil & coolant systems, fuelling solutions, AdBlue fluid mixing, sanding systems, air purification & ventilation, shore supplies, and depot protection equipment – not to exclude the internal depot engineering functions such as electrical jacks, automatic doors, gantry cranes and the like.
How We Operate
Emeg's maintenance teams operate within a paperless environment where all Planned Preventative Maintenance (PPM), reactive call-out and job sheet documentation is online with copies sent direct to the client if required.
Emeg has a customer service centre which is available with engineers on rota to respond 24/7, 365. Emeg's customer service base is extensive and they expect and receive total professionalism and flexibility of working hours with honest appraisals. We always accept full responsibility and accountability for our actions.
Some of Emeg's customers with which we have full maintenance contracts are Network Rail, Great Western Railway, Alstom, Bombardier, South Eastern Trains, Arriva Traincare, Northern Rail and Midland Metro, to name but a few.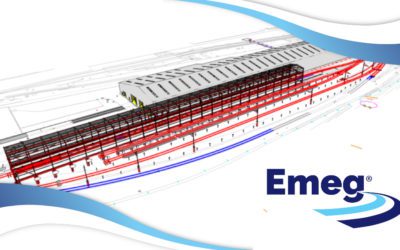 Emeg® Group is pleased to announce that we were recently appointed by Buckingham Group Contracting to undertake a comprehensive schedule of improvement work at the Etches Park rail depot in Derby for East Midlands Railway. This vital upgrade work is necessary ahead of...
read more