Shore Supplies
Emeg has been designing, installing and maintaining Shore Supply systems for over 20 years and has numerous reference sites. Shore Supply systems are required when there is a requirement to stable diesel trains overnight at a depot for servicing. For example, once the train has been serviced and through the e-wash™ carriage washing machine, it will be stabled in the sidings to enable the depot's cleaning staff to clean the inside of the train overnight. As this procedure is also carried out throughout winter, the internal train lighting and heating has to operate – without the train's diesel engine running.
As depots are generally located within the vicinity of housing, it is not acceptable to have train engines running through the night due to noise and pollution concerns. Therefore, an alternative source of power is required to power the train's internal electrical circuits. A Shore Supply system plugs directly into the train and powers the electrical circuits without the need to run the train's engine. As the e-shore™ system is based on an incoming IT electrical power source, a new 11,000 to 400v transformer is provided, usually in a new HV switch room.
Typical Emeg Shore Supply IT Transformer
The IT transformer would feed a 400v Shore Supply panel which would comprise:
An incoming ACB suitably rated and a number of suitably rated ACB Shore Supply outgoing ways – manufactured to Network Rail Line Standard (NR/L2/RMVP/XXX Issue 3 and NR/PS/ELP/ 00022 issue 2 Feb 2006) and comprising of:
a) One incoming section with withdrawable pattern 3-pole ACB, a set of instrumentation and protection equipment per Network Rail Line Standard.
b) A number of withdrawable pattern ACB outgoing Shore Supply 3-pole outgoing ways, suitably rated with a maximum breaking capacity of 35kA along with 3 sets of protection and control equipment per Network Rail Line Standard.
e-shore™ Components
For each individual e-shore™ Shore Supply point there would be one lineside pillar, one ground box, and one plug and lead.
For the more usual 400v Shore Supply systems, each lineside pillar would be manufactured from stainless steel and would be equipped (as standard) with manual insulation resistance test switch and analogue 1000v insulation meter.
The ground box or trifurcating box would be manufactured from stainless steel and would generally be recessed into the apron and fitted with a non-slip cover. Three single core flexible cables are provided, with a plug that is compatible with the train. Usually, the plugs are LPA.
Emeg has provided many different types of Shore Supply system – 400v, 650v, etc. Recently, Emeg has developed a Shore Supply changeover system that enables the depot to power totally different trains from the same lineside pillar.
Shore Supplies Case Studies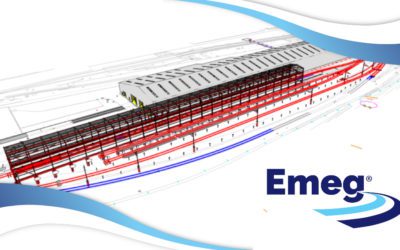 Emeg® Group is pleased to announce that we were recently appointed by Buckingham Group Contracting to undertake a comprehensive schedule of improvement work at the Etches Park rail depot in Derby for East Midlands Railway. This vital upgrade work is necessary ahead of...
read more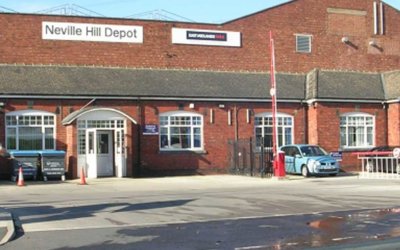 The project consisted of the removal & replacement of electrical distribution equipment & cabling relating to the existing 850V Shore Supply installation.
read more