As you may or may not know, Emeg Group were Gold Sponsors at Middle East Rail 2022 in Abu Dhabi last week. We had a great time in the UAE's capital city, even if it was under rather sad circumstances following the recent passing of the nation's President, Khalifa bin Zayed Al Nahyan.
This was the 16th Middle East Rail exhibition and conference and in many ways, it felt like the biggest and best yet. ME Rail is a showcase of the best in rail innovation, technology and strategy from the world's leading companies in the rail sector. Once again, we were honoured to host some very special VIP visitors to the stand on day 1 of the show, in the form of H.E. Dr. Rumaih AL-Rumaih, President of the Transport General Authority, H.E. Eng. Suhail Mohamed Faraj Al Mazrouei, Minister of Energy & Infrastructure – UAE, and Wendy Morton MP, the UK's Minister of State for Transport – pictured below.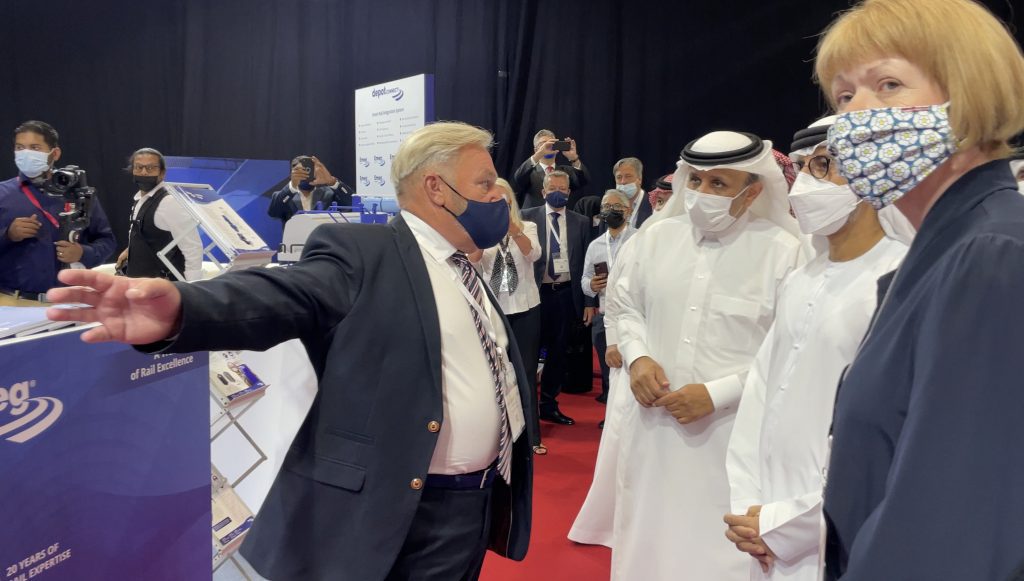 As a Gold Sponsor, we were also given a speaking slot in the Sustainability & Strategy conference area where our Marketing Director Rich gave an insightful talk on railtech and how cloud infrastructure, augmented reality, the metaverse and other disruptive tech can help global rail operators improve operational efficiency, enhance the passenger experience, futureproof their networks and gain a competitive advantage. A huge thank-you to everyone who attended the talk. It was one of the most popular if this pic is anything to go by.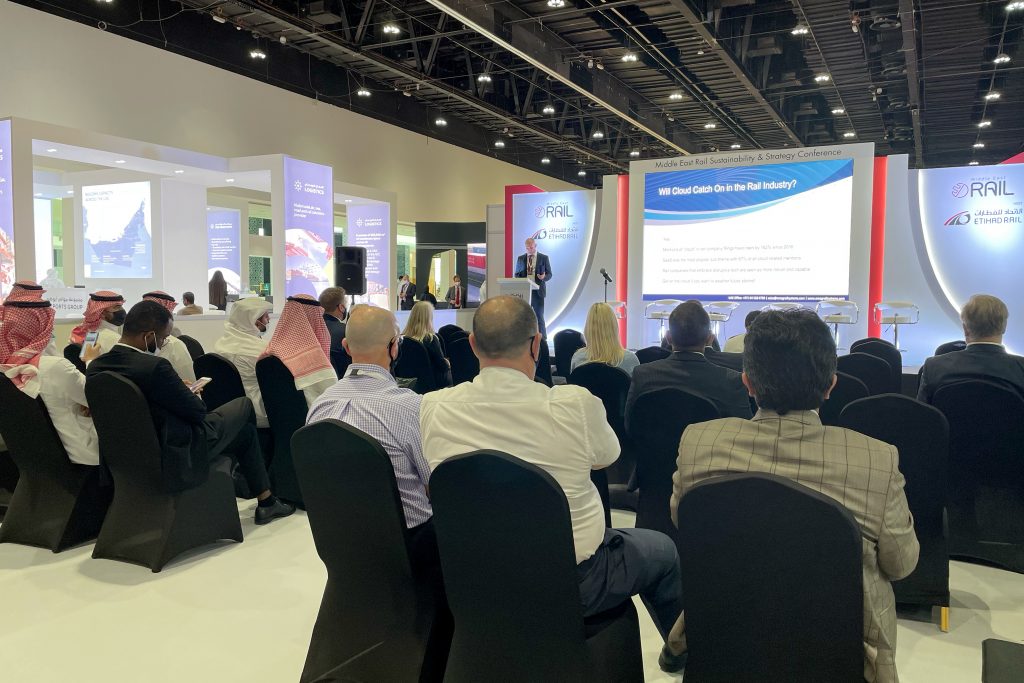 Visitors to the stand could experience Emeg's industry-leading products via live demonstrations, including:
safeNet™ – the world's first depot protection system (DPS) with facial recognition:
e-vac™ – controlled emission toilets (CET):
e-mix™ – intelligent fluid mixing:
depotCONNECT® – our smart, RFID-powered depot integration platform:
e-wash™ – carriage wash machines (CWM):
As well as e-shore™ Shore Supplies and our mobile all-weather wireless totem displays.
Our time-served sales team and technical representatives were also on hand to answer questions about our specialist, rail-focused services, including design, MEP and maintenance. We also fielded many enquiries about our involvement on the huge Etihad Rail project taking place in the region as well as our work on the Al Qurayyat depot for Saudi Arabia Railways.
You can check out a short Middle East Rail 2022 highlights video below…
Finally, a massive thank-you to the Emeg team and the guys at GES Graphics for all their hard work and late nights building the Emeg stand and making it such a popular destination for visitors across the 2 days. It even made the National News! Here's a short video showing how the stand came together…
We're already looking forward to Middle East Rail 2023!
To find out more about how Emeg Group can boost safety, productivity and efficiency on your next rail project, please get in touch with our team today or give us a call on +44 (0)1246 268678 (UK) or +971 04 568 6798 (UAE).